How to configure you pfSense on the NBN in Australia
SG-1100 and SG-3100 models (but can be used for any switched / vlan ports)
In Australia, the NBN connections can require your PPPoE to present on a VLAN - most commonly VLAN ID 2. If you are not familar with using VLAN's on pfSense, you may find the below useful.
We have found this is commonly used on HFC & FTTC NBN services, however the technique is the same regardless of access technology used.
The SG-3100 has a dedicated physical interface for the WAN and OPT1 ports - meaning we don't need to create any SWITCH config for the new VLAN. If you are using the SG-3100, skip ahead to the Interface creation - "SG-3100's start here!"

SG-1100:
Using the (factory) default config:
Start by making the pfsense switch aware of VLAN 2
Navigate to Interfaces -> Switches -> VLANs

Click on "Add Tag" and match the below settings (you will need to "Add member"

The below assumes you will be adding the VLAN tag to the WAN interface, which is interface "3"

You can review which physical interface the port number relates to by reviewing the details in Interfaces -> Switch -> Ports

Save the the new VLAN, and confirm the below settings are applied: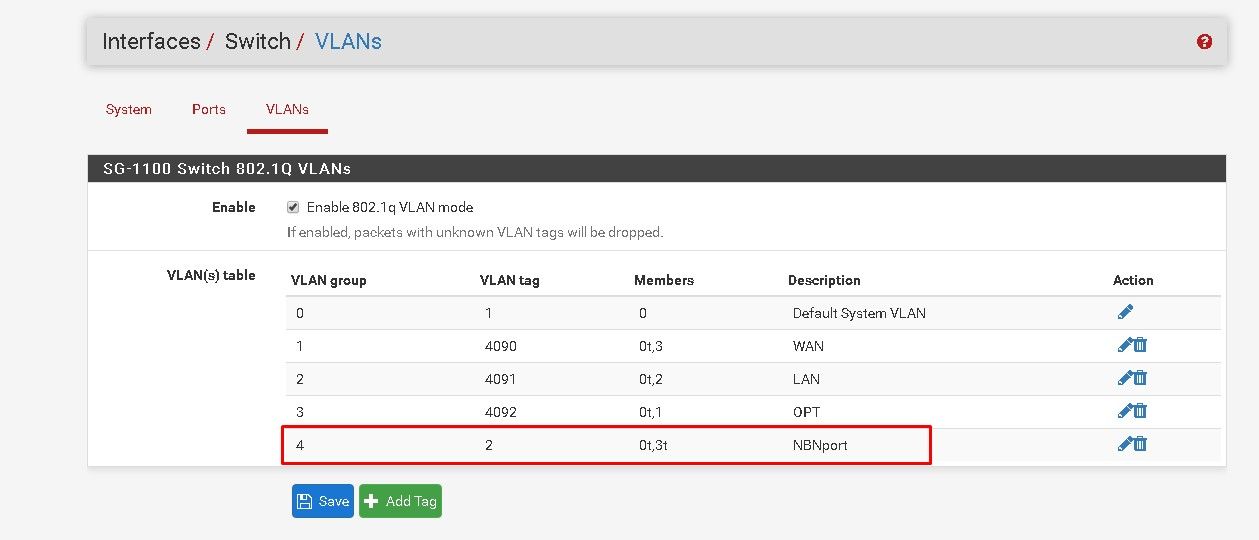 SG-3100 start here!
Next, you will need to create the interface.
Navigate to Interfaces -> Assignments -> VLANs

Ensure you save / apply the new virtual interface.


Next, you will need to configure your Interface assignments.
If you use PPPoE, you would assign the VLAN2 to the PPP interface

Navigate to Interfaces -> Assignments -> PPPs

Re-assign the the interface which the pppoe accounts binds with to th "mvneta0.2"

(Top Tip - the value after the "." = VLAN ID)

Check your log files / dash board to confirm connectivity

(Top Tip - NBN HFC and FTTC connection equipment may need a reboot to learn the MAC address of your pfSense if you have used other devices to authenticate previously)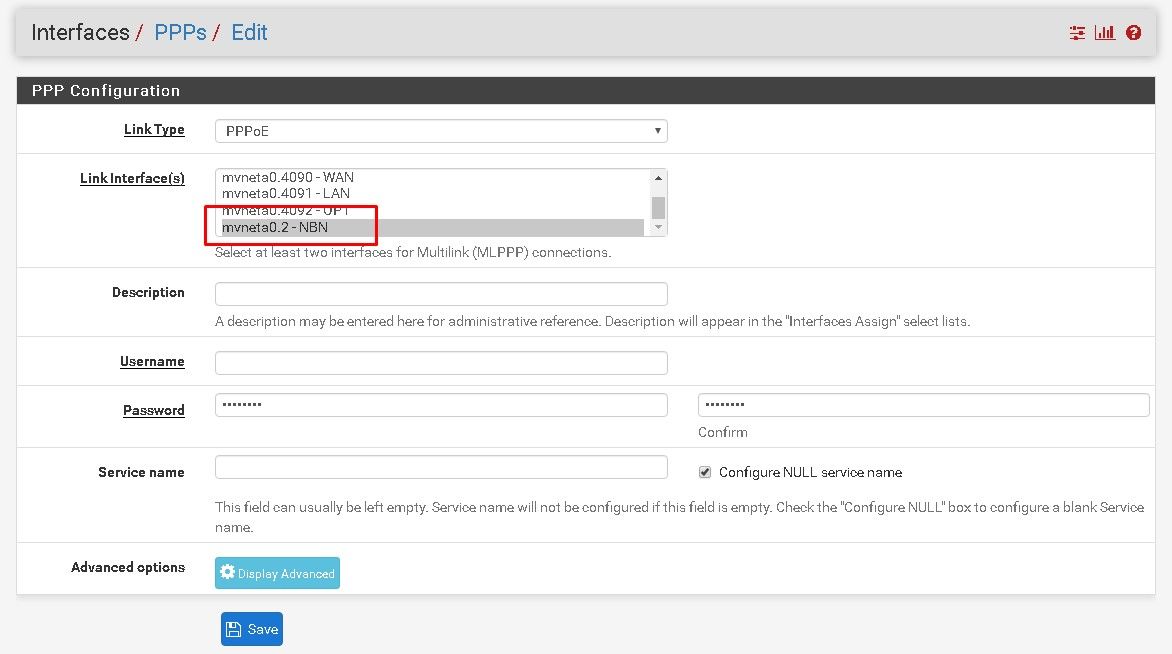 Alternatively, if you are configuring on a direct connection, simply select the correct VLAN for the WAN port on the Interface Assignments tab:
Navigate to Interfaces -> Assignments

Click the drop-down for WAN and select the "VLAN 2 (NBN)" interface you created earlier

This should complete the config required to connect your pfSense to your NBN provider. Remember - rebooting the NBN NTU can be a real time-saver (and be mindful that HFC and FTTC modems can take over 5 minutes to reconnect - so be patient). If you have any issues, remember to check your pfSense logs!